10 Benefits of Facebook Advertising.
Your potential customers are on Facebook.

It is one of the cheapest forms of advertising.

Even small budgets can produce great results.

Many targeting options that meet any marketing objective.

Facebook ads can enhance customer loyalty.
Facebook ads can expand your reach immensely.

Facebook advertising can produce great retention results.

Ability to reach large mobile audiences wherever they are.

It is one of the fastest forms of advertising.

Ideal for both local and international businesses.
Billions of People Use Facebook Every Day.
Who doesn't use Facebook nowadays? There are about 2 billion people around the world using Facebook every day.
Your potential customers visit Facebook through desktop and mobile devices, which allows our Facebook marketing agency to promote your business, products or services to them, wherever they are.
2 Billion
People Use Facebook
Pay Only When Your Adverts Result in a Desired Action.
Even though your adverts might appear thousands of times and reach thousands of Facebook users, you will only pay for adverts that are clicked (CPC bidding model), that generated conversions (CPA bidding model) or video adverts that are watched (CPV bidding model).
To get more bang of your buck, our Facebook advertising expert will improve the quality of the ads and targeting to decrease the cost of advertising further.
Achieving Outstanding Relevance Score for Lower CPCs & CPAs.
Facebook uses an algorithm to determine the relevancy and quality of adverts and assigns a score to them called Relevance Score. That score significantly impacts the actual CPC or CPA an advertiser pays to Facebook. In other words, the higher the Relevance Score is, the lower the CPC or CPA is and vice versa.
We constantly strive to achieve 10 out of 10 relevance score that often delivers fantastic CPAs for our clients.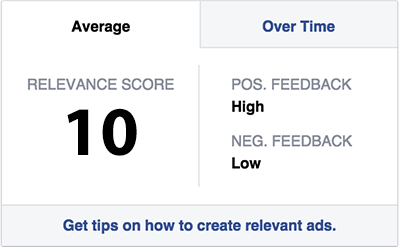 Organic Reach Has Been Declining. Ads Can Expand Your Reach Immensely.
The organic reach of almost all business-related pages on Facebook has been declining over the last years. So even though your business might have a large fanbase on Facebook, your posts will reach a fraction of it.
Our Facebook advertising agency can reach out to your existing fanbase as well as users who haven't interacted your Facebook page yet.
Reach Consumers at Every Stage of Their Buyer Journey.
Whether your marketing goal is to build awareness, educate and influence potential customers, grow your audience, drive conversions or maximise sales, Facebook offers an abundance of targeting options that suit any type of business.
Several Facebook Ad Formats to Choose From.
Static Image Ads is the most common Facebook advertising format, whereby a stand-alone image appears on the ad. It is mostly used by small-sized businesses that are not ready to invest in video productions.
Video ads are gaining popularity since they are more engaging, and users prefer to watch online videos. This format allows advertisers to better show off a business, product or service through moving visuals and sound.
Carousel ads let us showcase up to 10 images or videos within a single ad, each with its own link. Those are used to promote multiple products in one ad or to create a compelling visual story about a business.
This format is an alternative to Video Ads, which let advertisers turn images into eye-catching animated ads without investing in video production. Slideshow ads combine up to 10 images to tell a story.
Show Ads in Many Networks With a Single Campaign.
Your target audience can be reached on multiple networks, websites and mobile apps through a single Facebook advertising campaign.
Facebook Ad Campaigns Tailor-Made to Your Marketing Objectives.
Professional Facebook Advertising Services For Your Business.
Over the last eight years, we have set up a huge number of Facebook Ads accounts from scratch.
We have 360-degree knowledge and expertise in setting up accounts from adding billing and invoicing details to conversion tracking, account structure and reporting setup.
Prospecting is a Facebook advertising service to target new relevant audiences that haven't interacted with your brand or website yet.
We can identify and target potential customers for your business based on several targeting criteria such as demographics, location, customer intent and interests.
Remarketing is used to target people who previously interacted with your business, website or mobile app but hadn't completed a desired goal such as making a purchase or submitting a form.
We can help you remind your prospects to finish what they started.
We offer training courses covering not only the fundamentals of Facebook advertising but also advanced tactics, techniques and best practices.
This course can also be delivered in-company and be tailored around your policy and procedures.
Choose The MOST Qualified Facebook Advertising Consultant.
There are plenty of businesses outsourcing PPC activities to agencies. A great deal of them selects agencies or consultants solely based on the fact that they have clients in the same industry, instead of checking how many years of experience and knowledge they have gained in the digital marketing field. Frankly enough, it takes many years and hard work to learn how the PPC ecosystem works, and a few days to understand how to optimally promote a company that operates in a certain industry.
A qualified agency could save thousands or millions of euros on media buying per year while generating more conversions.